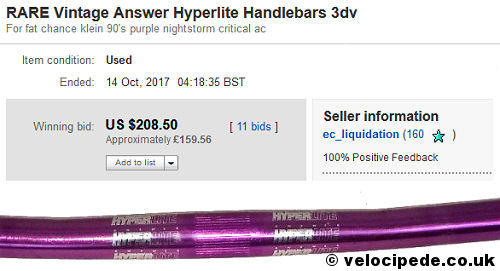 Wow, this crazy ebay auction was bid up by two desperados who were obviously very keen to land one of these bars for a build.
At £160 , I could have bought sixteen NOS 3DV bars in the late 1990's… but I bought two instead. This was thanks to a lead from fellow early retro collector known as scantregard (now scant) on the Singletrack Forum who mentioned that he knew of a bike shop clearing them out for £10 each.
Shocked at the prospect, I asked for the name of the bike shop and gave them a call. He was correct, they had loads available. I asked about the cost of postage… it was free. Amazing! I only needed one for my NOS Manitou HT build at the time, but I couldn't resist getting a spare at that price.
All in original packaging of course. Much like this NOS 3DV Hyperlite which has just appeared on Retrobike for a bargainous £65.
You would think that the ebay winner is probably kicking himself for paying so much, but it's highly unlikely. The game is very different at the top end of the market.  I'll go into more detail about this another time.
Happy hunting!