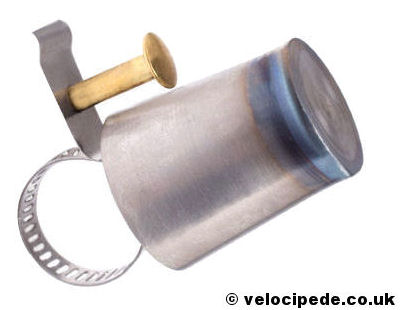 Not the kind of BarBell you would lift, more the kind of uptured Bell you would have while standing at the Bar. Say what? This unique handmade 3Al/2.5V titanium bell from King Cage can be unscrewed and turned into a shot glass!In classic King Cage style, the bell is stamped with "KING CAGE" around the top. It is attached to the handlebar via a stainless steel adjustable hose clip which perfectly reflects the rugged nature of the unit. A brass lever, resembeling a giant tack, is attached to a pressed stainless steel plate which acts as spring to project the brass lever into the bell and produce a high pitched 'ping!'
The perfect addition for the drunkcyclist.com – these guys are great, check them out.
BarBells have not been readily available outside the USA, but they can be found at kingcage.com.
Colour: Titanium/Brass (natural)
Weight:
RRP: $40
Made: USA