Odyssey Straddle Rods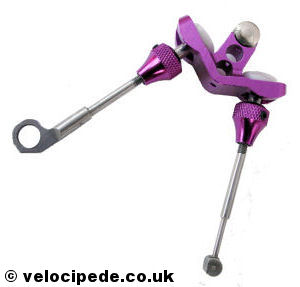 Probably the most overbuilt cable hangers… ever! The primary feature is the independent brake tension adjustment, but you could argue that Rodney Davidson created a solution for a problem that didn't exist.
Designed for use with most cantilever brakes, hence the brake straddle end clamp on one end and a ring for a bolt on the other.
Available in two profiles, standard and low, which is determined by the length of the steel rods at 105mm and 76mm respectively.  Definitely not a product for the weight conscious!
Offered in a limited range of anodised colours – Black, Blue, Purple and Silver.
Weight: 39.5g (std), 36g (low)
RRP:
Made: USA