CLB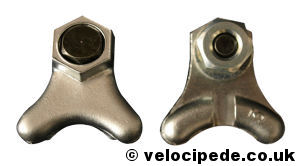 Vintage 1970's cable hangers from the legendary French brake manufacturer CLB.
Weight saving became a priority for the company at this time, hence the minimalist design.
Unlike other hangers of the day, which were of bent aluminium plate construction (such as those from Mafac), these were forged aluminium. An M5 bolt, nut and washer combination secures the brake cable.
Weight: 6.5g each
RRP:
Made: France