BREW Jug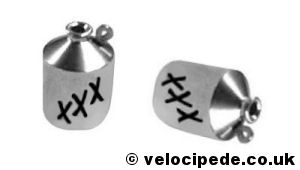 Very original jug shape cable hangers made by Blue Ridge Electric & Welding (BREW) Racing in the 1990's.
The brake cable is held in place by 2 grub screws. The straddle wire is threaded through the lower portion of the jug and not held in place. The black XXX sticker is a perfect finishing touch.
Available in only one colour – Silver.
Weight:
RRP: $12 each
Made: USA